DPF 360 is your closed loop solution.
What do we mean by closed loop? It's simple, OEM manufactured DPF's and DOC's life cycle from sale to service and then back to OEM. A DPF or DOC will come to us for service and repairs or to be remanufactured throughout its life. At the end of life it will also come to us for recycling. The reclaimed PGM's (Platinum Group Metals) will make its way back to the OEMs for new DPF's and DOC's. And then the process begins all over again.
DPF 360 is the only company that offers all of these services under one roof.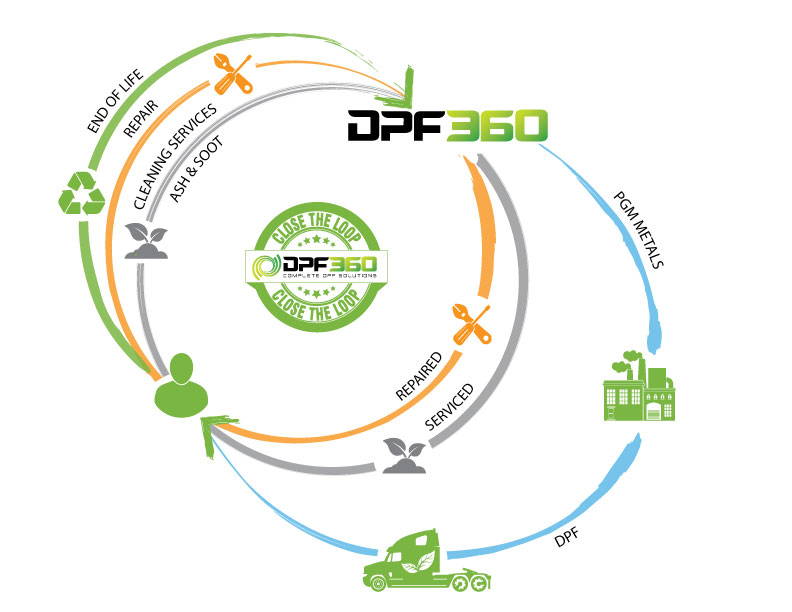 Join active participants across the country!

Everything about the life cycle of a DPF or DOC, from the waste it produces (ash/soot and end of life parts) to the service and repair of each unit. DPF 360 has the resources, capability and the know how to ensure your parts and waste are handled and serviced properly and safely. All waste is processed to remove recoverable metals. All customer parts are cleaned and tested to ensure quality performance. We also offer repairs if necessary to meet customer specification. Our specialized team at DPF 360 has over 30 years of combined experience in both precious metals recovery and diesel exhaust systems. Together we form a unique group that is unmatched in the industry.